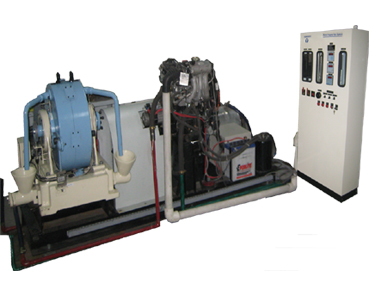 Engine Test Systems
Engines and Dynamometers can be of various capacities and RPM as per requirements. Both are mounted on a common fabricated base frame and are coupled by an Universal Propeller Shaft.
The moving parts are covered with a sturdy guard for safety. All the sensors are mounted at appropriate locations and their cables are terminated to Engine Test Panel thru
Data generated during the testing can be recorded manually or stored to PC in case PC based ETS.
Morse Test can be only done in case of Multi-Cylinder engines. ETS is useful for Educational institutes like Engineering colleges, polytechnics, IIT and Research organisations to study and evaluate performance of Engine or any Prime mover.
Engine Test Systems consists of : Single / Multi Cylinder Petrol / Diesel Engine, Eddy Current or Hydraulic Dynamometer, Engine Test Panel
Features include : Easy to operate, Smooth running, Highly accurate and reliable, Easy for maintenance, Sturdy design, Proven field performance, Vibration free operation, High MTBF and Low MTTR