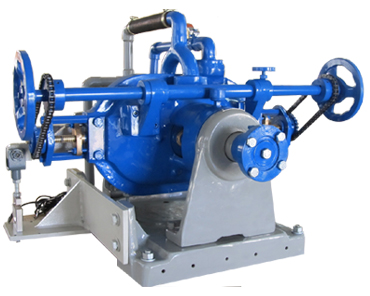 Hydraulic Dynamometers
Suitable for measuring Brake Horse Power of different types of Prime movers like Diesel , Petrol Engine, Electrical Motors, Vehicles.
These are sluice gate operated Dynamometer. The rotor and stator rings are cast from Phosphor Bronze material.
Power absorption unit is mounted on sturdy Cast Iron base plate with help of trunnions.
Load indication is in digital form with a load cell.
Calibration setup is provided for periodic check-up in order to ensure accuracy.
Principle Of Operation : Water acts as cooling and loading medium. Running rotor causes water to whirl in chamber. Braking energy absorbed converts to heat dissipated.
Advantages : Sturdy & Robust Design, Fast Response & Accurate calibration, Dynamically balanced rotors, highly economical and simple design.
Load Control : Load Control is effected by adjusting the sluice gates to and fro by means of chain and sprockets. This is achieved manually with the handwheel
Models : TM15. TM50, TM150, TM300 are suitable for 15, 50, 150, 300 BHP capacities at 1500 RPM